Here we are talking about world's most craziest, scariest and most amazing water slides of the world. These are not normal water slides which we usually go in our summer vacations. These are extremely extraordinary slides which will make your heart beat faster.
1. Boeing 747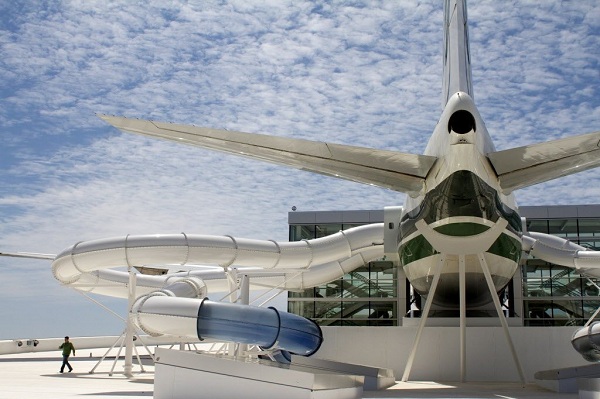 Boeing 747 at Evergreen Wings & Waves Waterpark in McMinnville, Oregon. It is an  educational waterpark that includes ten waterslides and students can enjoy Sliding and riding out of a real Boeing 747 aircraft. The main reason behind this educational water park is to teach students the power of water.
2. Leap of Faith
Advertisement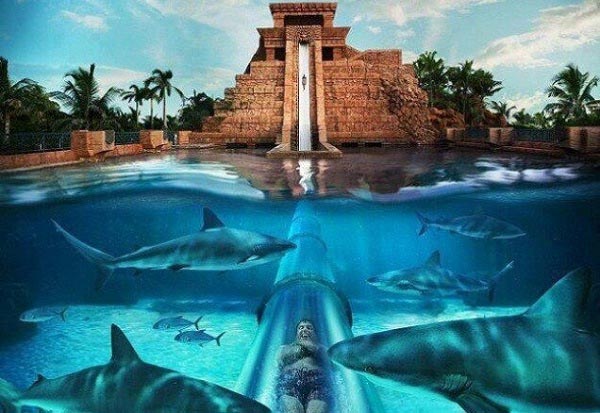 Leap of Faith in Atlantis Paradise Island, Bahamas is 27.5m tall and 61m long. The Leap of Faith takes the riders to underwater transparent tunnel  through a shark-filled lagoon, so that people can enjoy live aquarium experience. But the  shark there will not hurt you or your tunnel tube.
3. King Cobra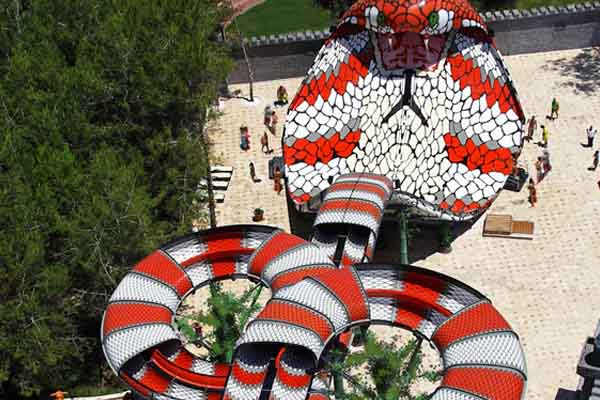 King Cobra at Six Flags Hurricane Harbor, New Jersey is five storied tall water slide, painted in bright and bold red, black, and white colors. This snake is 250-foot-long on the top of a 50-foot tower. It holds 2 double tubes through a circular path with twists, turns and takes you to the snakes mouth.
4. Summit Plummet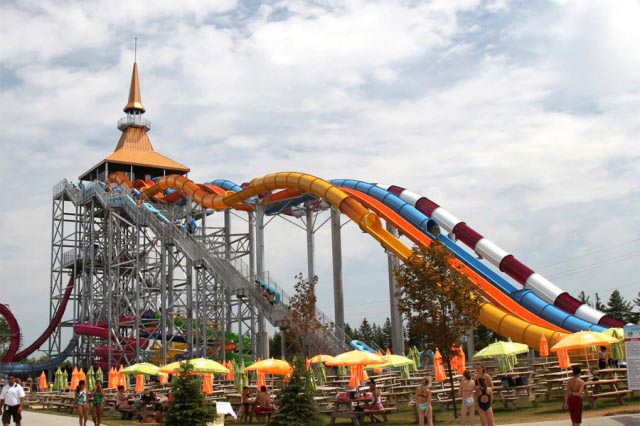 Summit plummet in Disney's Blizzard Beach in Florida is attraction to the public. It is 120 feet tall, and speeds 60 miles per hour. It's the third-tallest free fall slide of the world. There is a minimum height requirement of 122 cm for the 360-foot-long run water slide.
5. The Wildebeest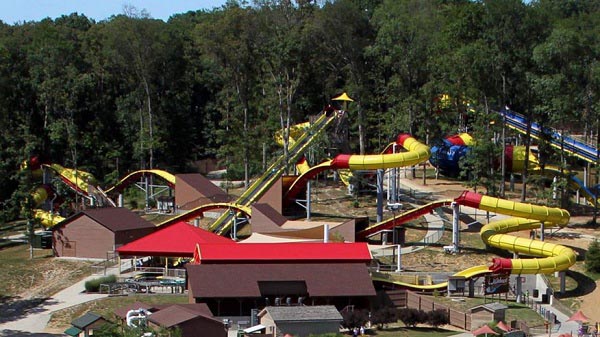 Wildebeest is a swift-moving safari animal type wild roller coaster in Ontario, Canada. Wildebeest is one-third mile long and it takes riders for two-and-a-half minutes to complete the thrilling ride. Wildebeest ride travels at the speed of 36 feet per second. Its the second longest water slide of the world.
6. The Insano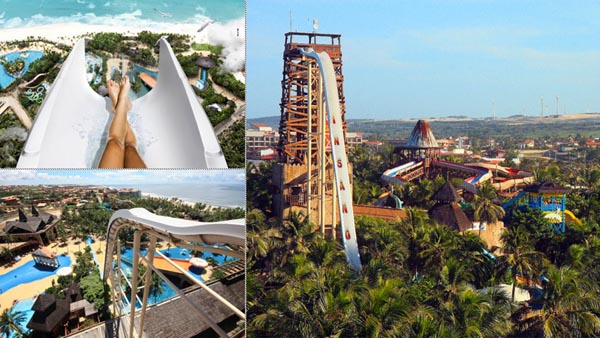 Insano in Brazil is world's tallest water slide. It is high like a 14 storey building and riding from there will surely gives you goosebumps. 41 meters high and the ride is over within 5 seconds, its unbelievable. This ride is listed with the Guinness World Records.
7. Jumeirah Sceirah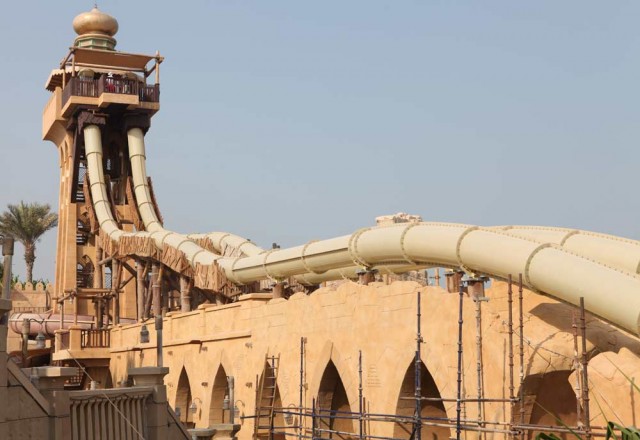 Jumeirah Sceirah in wild wadi, Dubai is the tallest free-fall water slide outside North America. It is 32-meter-high, 120-meter-long water slide.The slide drops riders through a enclosed capsule with a floor down to 10 meters at a 70-degree angle by the speed of 80kph.
8. Master Blaster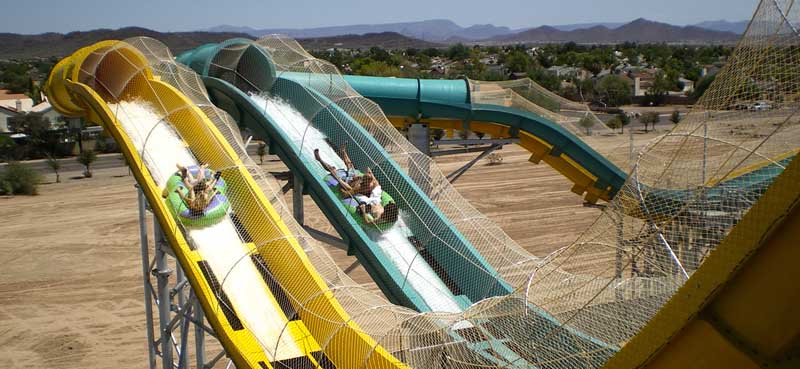 Master Blaster water coaster in Texas, USA is six stories tall about 1000 feet long. The Master blaster is also known as the World's first uphill water roller coaster. It is thrilling because riders have to ride from the top of the Blastenh off Tower.
9. Scorpions Tail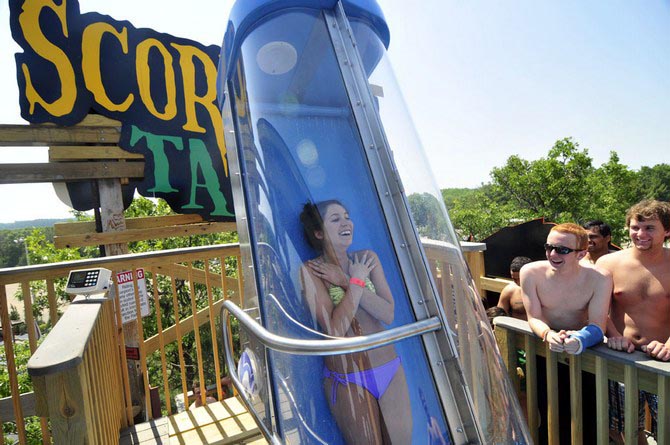 Scorpions tail in Wisconsin Dells, Wisconsin is the first vertical looping water slide in America. It is ten stories high, 400-feet in length and the ride will drop you off at the speed of 50 feet per second.
10. Bullet Bowl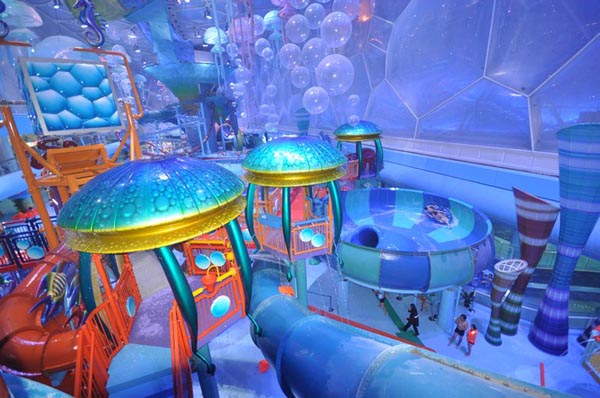 Bullet bowl is a type of compact bowl. At the top of the tower two riders ride in a double tube and are dropped into the bowl which gets Hit by a spray of water which sends rider into the bowls exit core down to the lazy pool.
I like the #2 The Leap of Faith. How about you? Comment your answer below.. Thanks 🙂