Dean's Blue Hole
The world's deepest known salt water blue hole with an entrance below the sea level. It plunges 202 meters (663 ft) in a bay west of Clarence Town on Long Island, Bahamas.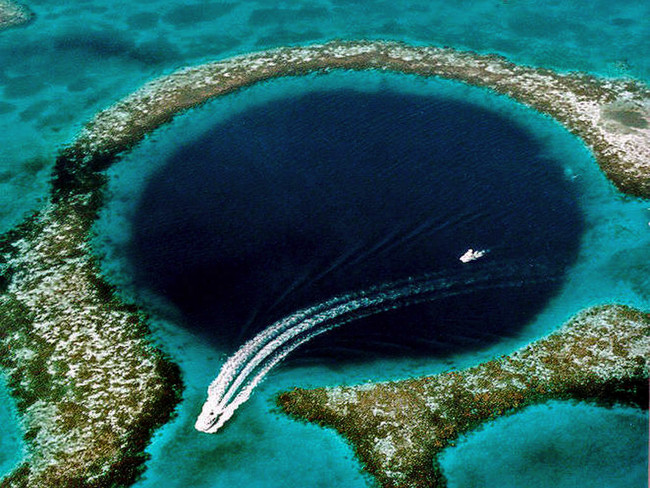 Advertisement
Monticello Dam
It is a 304-foot (93 m) high concrete arch dam in Napa County, California, United States constructed between 1953 and 1957. The dam impounded Putah Creek to create Lake Berryessa, currently the seventh largest man-made lake in California. Water from the reservoir primarily supplies agriculture in the Sacramento Valley downstream. The dam is noted for its classic, uncontrolled morning-glory type spillway. The diameter at the lip is 72 ft (22 m). Locally, the spillway is also known as 'The Glory Hole'.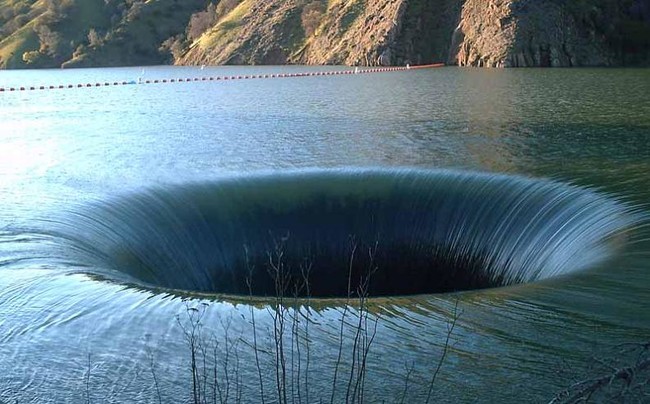 Kimberley Diamond Mine
Kimberley is the capital of the Northern Cape Province of South Africa. It is located approximately 110 km east of the confluence of the Vaal and Orange Rivers. The city has considerable historical significance due to its diamond mining past and the siege during the Second Boer War. Notable personalities such as Cecil Rhodes and Barney Barnato made their fortunes here, and the roots of the De Beers company can also be traced to the early days of the mining town.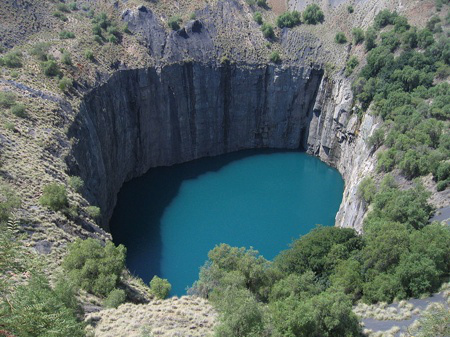 Darvaza Gas Crater (Door to Hell)
The Door to Hell is a natural gas field in Derweze (also spelled Darvaze, meaning "gate"), Ahal Province, Turkmenistan. The Door to Hell is noted for its natural gas fire which has been burning continuously since it was lit by Soviet petroleum engineers in 1971. The fire is fed by the rich natural gas deposits in the area. The pungent smell of burning sulfur pervades the area for some distance.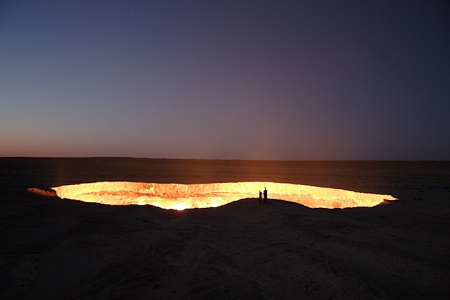 Guatemala City sinkhole
The 2010 Guatemala City sinkhole was a disaster in which an area approximately 65 ft (20 m) across and 100 ft (30 m) deep collapsed in Guatemala City's Zona 2, swallowing a three-story factory.The sinkhole occurred for a combination of reasons, including Tropical Storm Agatha, the Pacaya Volcano eruption, and leakage from sewer pipes.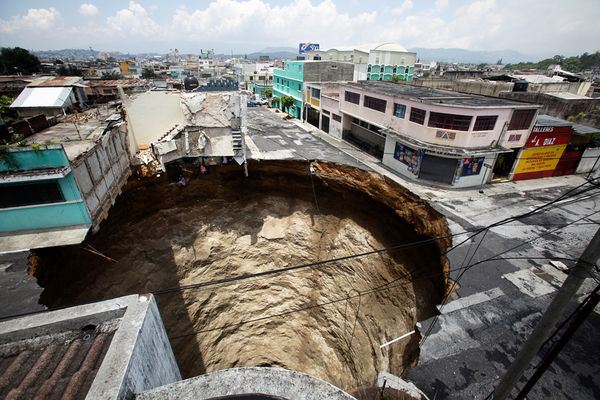 Dragon's mouth
Scientists think this mysterious crater may be a giant methane blow-hole that signals the beginning of runaway climate change. They are calling the point when frozen arctic methane in Canada, Alaska and Russia starts erupting into the atmosphere dragon burps.
Most of the details found at wikipedia.org