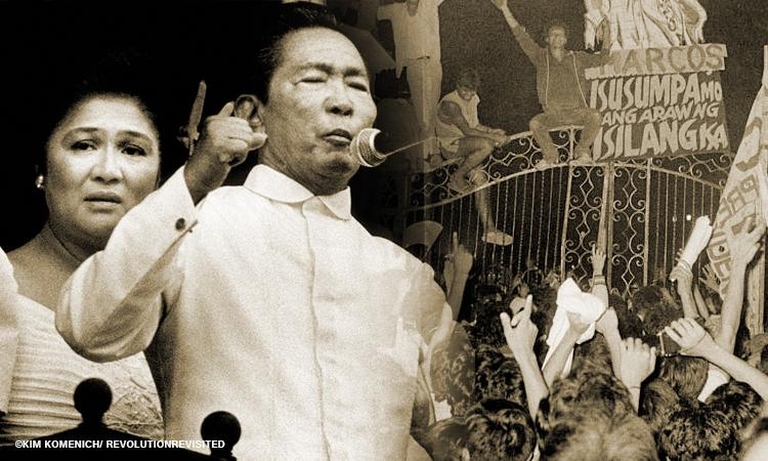 Written by Philip M. Lustre Jr. of CNN Philippines. He is a veteran journalist. He currently writes books occasional opinion pieces for traditional and nontraditional media.
What I would narrate is not a scene from the movie Titanic, when the ship was about to sink.
It just so happen that the scenes appear familiar, particularly those rats jumping out of the sinking ship.
This is to enable the young people to answer to understand what transpired on the last day of the dictator at the Palace.
This is part of my recollections regarding the EDSA People Power Revolution.
Even after that historic event, I continue to receive details and nuggets of information about the fateful four-day EDSA People Power Revolution and its aftermath.
Advertisement
One of the important historical antecedents refers to the last day of the Marcoses in Malacañan.
That was on February 25, 1986.
On that day, Ferdinand Marcos, the dictator, who ruled the Philippines for 20 years, became hopeless, helpless, and powerless.
His power base, particularly the military establishment, had crumbled, as his military functionaries defected en masse to the rebel camp.
Then U.S. President Ronald Reagan, always supportive of Marcos, changed tune upon the advice of the State Department and U.S. Ambassador to the Philippines Stephen Bosworth.
It was a lingering discomfort that his last four days in Malacañan, particularly the last day, were not prominently mentioned in the accounts of the EDSA Revolution, unlike Adolf Hitler's last days in the bunker, which were subject of several films.
As I collect, retrieve, and review my memories, notes, and first-hand interviews with some people, who had something to do with the Marcoses, I have kept on discovering new details that have yet to come out in the open. This gives joy to a journalist. A journalist is a scholar too.
Ferdinand Marcos hardly went to sleep on that fateful February 25, 1986. How could he? When the clock struck midnight, he knew his grip to power was slowly loosening, as hordes of military officials kept on defecting to the rebel camp of Juan Ponce Enrile and Fidel Ramos, who staged an unimaginable breakaway from Marcos three days earlier.
A number of military officials went to Camp Crame to pledge support for the JPE-FVR camp, but others stayed in their respective areas of responsibility, camps, and command posts. They did not have to go to Camp Crame. They were already on the rebel side.
Rebel forces quietly negotiated for their defections en masse. All they did was to ignore the orders of Marcos and his subalterns like AFP chief of staff Gen. Fabian Ver and some minor officials, who remained loyal to Marcos. At that point, Marcos was beginning to become a king without a kingdom.
It was a big question whether the dreaded intelligence network created by Ver and his loyal troopers during the height of the Marcos martial law government was working to its desired efficiency during the last day of the EDSA Revolution. It had ceased working effectively.
Marcos and Ver did not have the sufficient intelligence information to which they based their decisions. They were acting erratically. They were sad and glum not because of exhaustion during the first three days of the Revolution but because they already felt – although they did not exactly knew yet – that the end was coming.
Marcos started the day by arguing with Ver and son Ferdinand Jr., or Bongbong, who was in fatigue uniform to project his warlike stance, about launching an attack on Camp Crame, where the rebel forces were holed in.
Ver and Bongbong were pushing Marcos to give his final order for the dwindling loyalist troops to blow Camp Crame to smithereens without considering the hundreds of thousands of civilians there, but they were rebuffed each time they approached the dictator, whose health was failing because of stress.
Only a day before, the rebel forces had gained air power after the Air Force pilots led by Col. Antonio Sotelo defected. The rebel forces also fired rockets to Malacañan to give the explicit warning to Marcos that they had the air power.
First Lady Imelda Marcos spent the first two or three hours of February 25 going in and out of the private chapel muttering some private prayers as if she was mobilizing the saints in heaven to drive away those hundreds of thousands of people, who massed along EDSA and the major thoroughfares that surrounded Camps Crame and Aguinaldo.
She could hear the fiery exchanges of arguments between her husband, Ver and Bongbong inside the dictator's study room, but she felt spent to involve herself in those fruitless conversations. Only Ver and Bongbong had the gall to continue the battle, mustering some courage to give orders to the loyalist troops to disperse the people at EDSA. But their orders fell on deaf ears. Not one among the available Marcos loyalist generals felt they could do the job.
By 3:00 a.m., Marcos called U.S. Sen. Paul Laxalt, the Republican lawmaker, who was a member of the bipartisan group of American lawmakers, who served as observers in the February 7 snap presidential elections.
Laxalt conveyed Reagan's proposed solution to the political impasse – powersharing with Cory Aquino. But Marcos was in no mood to accept the proposal. He was forthright to give an accurate situation, telling the U.S. lawmakers that the loyalist forces were losing. Laxalt hang up, telling him he would call again as soon as he had talk to Reagan.
By 5:00 a.m. (Philippine time), Laxalt was again on the phone talking to Marcos, who bluntly asked him if Reagan, whom he regarded as a friend, had changed his mind concerning his treatment of his government. The exchanges, which were recorded by scholars, were curt but poignant because they showed the pathetic state of a falling dictator.
"Is President Reagan asking me to step down?" Marcos asked Laxalt.
"President Reagan is not in a position to make that kind of demand," Laxalt replied.
"Senator, what do you think? Should I step down?"
"Mr. President, I'm not bound by diplomatic restraint. I am only talking for myself. I think you should cut. And cut cleanly. The time has come," Laxalt said, with a combined air of authority and compassion.
Marcos did not speak for nearly two minutes, alerting Laxalt.
"Mr. President, are you still there?"
"I am very, very disappointed," Marcos said.
By this time, his feeling of an impending loss gave way to a firmer knowledge that he would have to leave Malacañan sooner or later in a disgraceful exit.
Marcos faced his remaining hours at the Palace with a sentence already written on the palm of his helpless hand. It was a veritable but irreversible loss, although Marcos took steps to swing some concessions. But it was all over. Any effort to strike a deal was meant to prolong his agony.
A tearful Imelda felt hopeless too.
In a last ditch effort to save the situation, she personally called up US First Lady Nancy Reagan to ask about US intention to the country, but the latter could not give any firm commitment, telling her that she would have to talk to her husband.
Marcos also called up Labor Minister Blas Ople, who was in Washington on a diplomatic mission to convince US policy and decision makers about the "success" of the presidential elections, but the latter gave him a bleak report. By that time, the Marcoses started packing up whatever they had and they could in Malacañan.
By that time too, Chief Justice Ramon Aquino and wife Carolina Griño Aquino woke up to prepare for the oath-taking of Marcos in Malacañan, where they slept.
Because of the tense situation, Marcos asked his security men on the late afternoon of February 24 to fetch CJ Aquino and wife from their residence in Manila.
As customary in previous presidential inaugurals, the Supreme Court chief justice administers the oath of office for the incoming or reelected presidents (Marcos was the only reelected president under the 1935 Constitution).
Marcos sweet-talked Aquino to administer the oath. But because of the volatile situation, Aquino and his wife had to sleep in the Palace to ensure their availability for the oathtaking.
Except that the Soviet Union later crumbled into a dozen or so republics, and most countries, notably Canada and at least a dozen European countries led by France, announced they would not send representatives to attend the oath-taking of Marcos in Malacañan.
They said that Marcos victory in the last polls was tainted by fraud and admitted they were to boycott his oathtaking. France went a step ahead, when it announced a few minutes after Cory Aquino earlier took her oath on the same day that it had decided to recognize the legitimacy of the Aquino government.
Nevertheless, Marcos decided to push through with his own oathtaking. His legalistic mind told him that an oath-taking was necessary to claim the presidency. He felt it was important at least for a show.
At the break of dawn, his supporters hurriedly mobilized hundreds of Marcos loyalists from the depressed communities in Manila — particularly Tondo, Paco, and Santa Ana — and Quezon City. They took them by rented jeeps to serve as audience for the oath-taking in Malacañan.
By 9:00 a.m., the Malacañan parade grounds teemed with some 3,000 Marcos loyalists, many of whom were wearing shorts, sandos, slippers, and cheap rubber shoes. They were given white T-shirts emblazoned with "Marcos pa rin" and small flags and banners with the same message.
They kept on shouting "Marcos pa rin" and "martial law," as if they were the mantras of the falling Marcos government.
At the intersection of Nagtahan Bridge and J.P. Laurel Street, hundreds of left wing activists appeared to have woken up from their slumber. They had realized that they could not just boycott the Filipinos' appointment with destiny.
They had felt they could not be a bunch of annoying fencesitters. They gathered there to push their own way to kick Marcos out of Malacañan. They nearly clashed with the Marcos loyalists.
Shortly before 11:00 a.m., in Club Filipino Annapolis Street in Greenhills, San Juan, about two kilometers from Camp Crame, Cory Aquino took her oath of office signaling her formal assumption of the presidency.
By 11:00 a.m., around 500 of those Marcos loyalists were admitted inside the Malacañan ceremonial hall, while the rest stayed on the parade grounds. Some wore slippers and rubber shoes. Others smoked in violation of the prohibition on smoking there.
Imelda wore her signature terno, while children Imee and Irene and their husbands were there wearing formal dresses. Bongbong was not around during the oath-taking, but he reappeared in combat fatigues when Marcos and Imelda sang before the loyalist crowd at the balcony of Malacañan minutes after the oathtaking.
Among the loyalists, who trooped to the Palace on that day was my relative, an Iglesia Ni Cristo convert, who was urged by their leader to join the "exodus" to Malacañan.
Their leader, who functioned as broker, promised them free food and transportation and P300 per person as "appearance fee." But because of the tense situation, the leader disappeared – only to resurface by night to give them P150 each. He told me they had to leave by 1:00 p.m. after they received a warning of a rebel attack on Malacañan.
Chief Justice Ramon Aquino administered the oath to Marcos.
But on the very minute that Marcos laid his left hand on a copy of the Holy Bible and raised his right hand to start his oath, a military sharpshooter took an aim at the transmitter of the three TV networks and shot it without a mistake to end the live coverage of the three TV networks.
The simultaneous telecast went dead.
But Marcos went on with his oath-taking as if nothing had happened. Then, he addressed at the loyalist crowd from the balcony, providing the Filipino people with a poignant image of a dictator who was about to fall from power.
Marcos's running mate, Arturo Tolentino, Prime Minister Cesar Virata and more than half of Marcos Cabinet and almost all of the diplomatic corps were no show, further projecting the message that the Marcos government was a sinking ship.
Some members of parliament belonging to Marcos KBL, like Jose Zubiri, even had the nerve to attend Cory Aquino's oathtaking, making them as among the first rats to jump out of the sinking ship.
For their part, Chief Justice Ramon Aquino and wife Carolina finally realized that Marcos was indeed losing in the power play. They too received the warning of an impending rebel attack, prompting them to leave immediately after the oathtaking.
Some witnesses said they saw them walking up to the Singian Clinic area ib J.P. Laurel Street., Other witnesses said they detoured to Arlegui and reached Legarda, where they took a cab to go home. They did not take their lunch in Malacañan.
Information Minister Gregorio Cendaña likewise left in a huff after the inauguration. He did not take his lunch too.
Neither were the Malacañan press corps, who covered the oath-taking, given their usual lunch packs (Cendana's disappearing act became a butt of jokes among journalists who covered Malacañan).
Immediately after the oathtaking, the first family retreated to resume the packing of their personal effects for a journey they could only feel at that moment.
The anticipated rebel attack did not materialize. Instead, Marcos kept himself busy for the preparations for their evacuation. He got in touch with Bosworth and requested him for a helicopter that would take them elsewhere without necessarily mentioning a destination.
At that moment, the presidential pilots had deserted the Palace.
A number of the Presidential Security Command personnel had changed into civilian clothes and disappeared without a word.
Even Ver started to go around his officers to bid them goodbye, although it was not exactly clear why he was bidding them goodbye.
Plans were not firmed up until the early evening of February 25.
Marcos wanted to go to his home base in Paoay, Ilocos Norte. But Cory Aquino was adamant in her decision that he should go on exile in the United States.
It has become a standard joke among Filipinos that the American pilot, who manned the U.S. plane that took the Marcoses to the U.S., misjudged Marcos's request to take them to Paoay and instead, flew them to Hawaii.
By 10:00 p.m., a helicopter picked up the Marcos and Ver families in Malacañan and took them to Clark Air Base in Pampanga. From there, a U.S. plane took them to Hawaii for the awaited exile.
Marcos spent his last days there as a sick man and political has-been.
He died there in 1989.
Meanwhile, a new government took over to start the arduous and tortuous journey to restore democracy in the country.
Source: http://bit.ly/1TnCys5